Yacht charter and boat rental in Phuket
A charter vacation in Phuket is about as close to paradise as you can get. You're guaranteed an unforgettable break filled with crystal waters, dreamlike coves and delicious cuisine. The exquisite beaches, sparkling nightlife and well-established tourist infrastructure in Thailand and Phuket make this area our most popular yacht charter destination.
Boat rental in Phuket is simple and easy, with Simpson Yacht Charter's expert team at the Ao Po Grand Marina, where most of our yacht charter fleet is located. We can rent day boats, yachts, luxury catamarans and superyachts perfect for your tailor-made charter experience.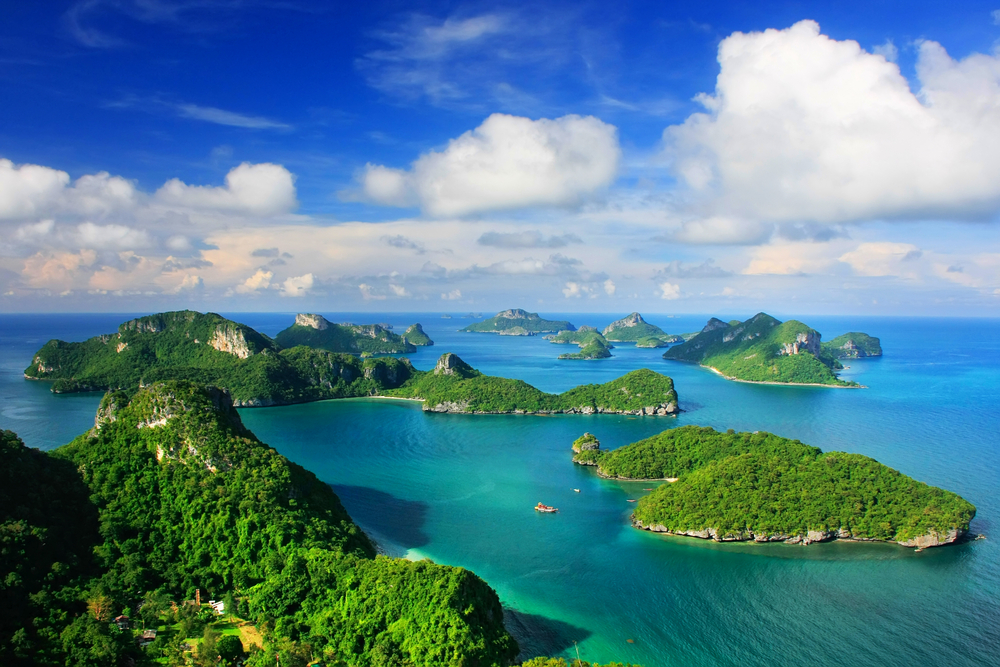 Highlights of a charter in Phuket
Take in the view of the magnificent limestone karsts and caves of Phang Nga Bay
Visit the mangrove rivers of James Bond Island, the backdrop for The Man with the Golden Gun.
Experience diving at one of National Geographic's top ten diving sites in the world off the Similan Islands, encountering manta rays, whale sharks and the Hawksbill turtle.
Meet the people of Ko Panyi (Sea Gypsy Island), a remarkable stilted village built out over the water that is only accessible by boat.
Take photos, snorkel and imagine your own island paradise on Phi Phi, the location for The Beach starring Leonardo di Caprio.
Dive the underwater caves of Lanta Island National Park which lies on the west coast of Andaman Sea in between Krabi and Phi Phi Island.
Sail to Ko Rang Yai to visit a pearl farm in one of the most well-known and extensive pearling operations in Southern Thailand. Experience a fascinating demonstration of pearl cultivation, and buy pearls of all sizes at the island pearl shop.
Let your hair down at one of the Phuket's beach clubs, dancing until sunrise.
See the unique limestone formation some of the areas many islands, including Ko Kai (Chicken Island) known for its strange rock formation that looks like the head and neck of an bird.
Visit the world class restaurants and enjoying the varied shopping on the Island of Phuket.
Escape civilization and enjoy the solitude of quiet beach walks on the Racha Islands.
View our sample Phuket yacht charter itineraries for further inspiration.
Catamaran rental Phuket
We operate the biggest and newest fleet of catamarans for rental in Phuket, Thailand and Southeast Asia. Our range of luxury catamarans starts at 40 feet and runs up to 80 feet. The much-loved Lagoon catamarans are especially popular for yacht charters, with their wide beam, voluminous decks, comfortable cabins with ensuite bathrooms, extensive outdoors and fun bow nets area that are ideal for kids.
To rent a catamaran, simply contact our experts in Ao Po Grand Marina and they will source the yacht that suits best your needs, considering layout, size, amenities and toys. Exploring the Phuket region on a luxury catamaran is the best way to get away from the crowds and enjoy your holiday in a quiet, relaxed and idyllic setting.
Day Charter in Phuket
A day charter in Phuket provides the perfect escape from the bustle of the city's buzz. It is one of the best ways to explore Thailand's most beautiful islands and spend quality time onboard with the people who matter most to you. Retreat to your own private floating sanctuary and anchor up at a private beach or beautiful island for an afternoon enjoying the endless array of activities on board. The sea is your oyster when you are on a yacht charter – try a variety of activities such as water toy fun, swimming, snorkelling, diving, stand up paddle boarding, jet skis, speedy tenders and kayaks. Be whisked away to some of Phuket's idyllic islands for an onshore experience unlike any other. Sip a cold beverage on the beach, picnic on a private island, or explore some of Thailand's beautiful nature and azure blue waters. Admire the beautiful sunset as you relax on board as the perfect ending to an unforgettable day on the water. You will be able to fully immerse yourself in the tranquillity that a day charter promises.
Opting for a day yacht charter provides you with complete freedom to enjoy your on-water experience as you wish, always specially tailored to suit your exact preferences. Whether a yacht party, small family holiday, or a couple's retreat – we are confident that we will provide you with experience of a lifetime.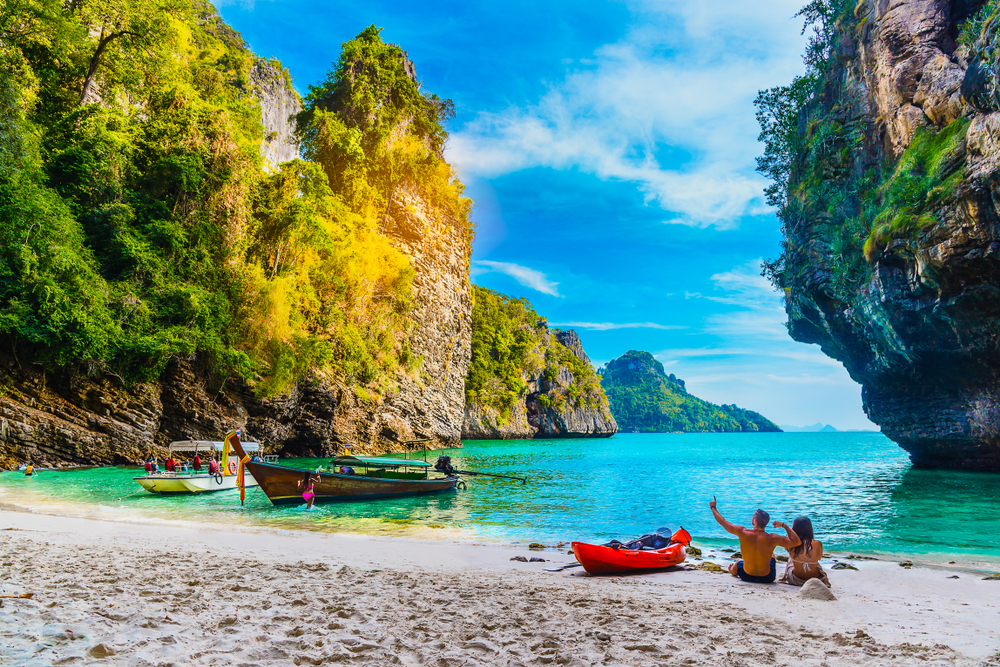 Phuket itineraries and boats
We offer a vast selection of itineraries for yacht charters in Phuket, from half-day trips to full-day, weekend, long weekend, weekly and longer options. We also offer popular itineraries that will take you beyond the usual spots to explore Phuket further. Our Phuket-based itineraries are local, regional and international, and can be combined with Malaysia and Myanmar discoveries.
In Phuket you can explore the iconic Phang Nga Bay and its wonders, visiting Koh Chong Lat, Koh Hong, Koh Kradan, Koh Muk, Koh Lanta, Koh Pu, Krabi, Railay Beach, Maya Bay, Koh Phi, Koh Racha Noi and Koh Racha Yai, to name several. We can create a tailor-made itinerary for you on any of our rental yachts, whatever kind of holiday you're after.
View our sample Phuket yacht charter itineraries for further inspiration.
Superyacht charter Phuket
Explore Phuket and its 100-plus stunning islands in privacy, enjoying secluded coves and uninterrupted views from the luxurious comfort of a superyacht. Superyacht charters in Phuket are private and exclusive, making them the ultimate way to spend your well-deserved holidays.
Our expert charter team can match you with just the superyacht you need, and make sure your Phuket holidays are everything you dreamed of. You'll enjoy all the impressive features of a superyacht and have a crew highly trained in the art of luxury hospitality. For a truly luxury experience, a superyacht charter is the real deal.
Event charters in Phuket
If you wish to take your special event to another level, why not consider an event charter in Phuket? We can help you create a special celebration of a wedding, honeymoon, birthday, reunion, company appreciation or any other occasion. Any event celebrated on a yacht will feel special when guests are surrounded by Phuket's famous turquoise waters, clear blue skies and picturesque landscapes with exotic touches.
Discuss your event charter and event boat rental in Phuket with our local team to ensure it is designed according to your wishes, down to the smallest detail, and enjoy your special celebration on a luxury yacht.
Our expert staff and yacht crews are on hand to help you plan an unforgettable yacht charter in Phuket. Simply complete the form, or contact us here for more information.
Frequently Asked Questions
1. Can you charter a Yacht and dive during the Sandbox stay?
Simpson Yacht Charter have SHA Plus status meaning you can enjoy your stay overnight on Phuket's Territorial waters which includes Naka Island, Koh Khai Nok, Maithon, Ratcha Island.
Phuket has some of the best dive spots in Asia from King Cruiser Wreck to Shark Rock and Koh Dok Mai. There are also beach dive options in Kata but this is dependent on tides.
You may refer to the SHA PLUS Approved list
2. Are staff at Simpson Yacht Charter vaccinated?
We currently have more than 70% of Simpson Yacht Charter staff vaccinated. Staff that aren't vaccinated are not allowed have any engagement with the customers
All our Captains, deck hands and hosts/chefs are fully vaccinated with Sinovac.
3. What is Phuket Sandbox?
Applicable for international travellers who are fully vaccinated against COVID-19 no less than 14 days before the travel date. They must also be from countries/regions with a low to medium risk of SAR-CoV-2 virus as announced and constantly updated by the Ministry of Public Health (MoPH).
Applicable for children under 6 years of age travelling with fully vaccinated parents or guardians.
Applicable for children between 6 and 18 years of age travelling with fully vaccinated parents or guardians, but they are required to take a COVID-19 test upon arrival at their own expense.
All vaccinated international arrivals must be fully vaccinated against COVID-19 with a vaccine registered with the MoPH or approved by the World Health Organisation (WHO).
All arrivals are required to download and install the alert application.
All arrivals are required to stay in an accommodation establishment that is certified with the Approved SHA PLUS Status

For travellers who wish to visit Phuket only, no minimum stay is required but they must leave Phuket (Thailand) for another country on or before the intended departure date;
For travellers who wish to continue the journey to other Thai destinations, they must stay in Phuket for 14 nights, and thereafter will be allowed to travel domestically.

All COVID-19 tests must follow the guidelines by the MoPH.
Travellers are allowed to engage in any tourism activities but are advised to strictly follow the DMHTTA precautions to prevent the spread of COVID-19: D – Distancing, M – Mask wearing, H – Handwashing, T – Temperature check, T – Testing for COVID-19, and A – alert application.
4. What do you need to do for Pre-Arrival?
In order to be eligible to enter in Thailand, vaccinated international travellers – and their children – need to have all of their advance arrangements in good order for arrival and entry. These include:
A vaccine certificate to proof that they are fully vaccinated against COVID-19 no less than 14 days before the travel date with a vaccine registered with the MoPH or approved by the World Health Organisation (WHO);
A valid visa;
A Certificate of Entry (COE) issued by the Royal Thai Embassy or Consulate;
A COVID-19 health insurance policy with a minimum coverage of US$100,000;
A confirmation of booking in a SHA Plus-certified accommodation establishment.
A medical certificate with an RT-PCR laboratory result indicating that COVID-19 is not detected issued no more than 72 hours before departure.
5. What is the procedure upon arrival?
Undergo Immigration and Customs procedures, and a COVID-19 screening, including RT-PCR tests;
Download and install the alert application;
Check-in at the pre-booked SHA Plus-certified accommodation establishment.
6. What is required during my stay?
Undergo a COVID-19 test using an RT-PCR method on Day 5 of your arrival per the MoPH's guidelines;
Engage in tourism activities or enjoy services in SHA Plus-certified venues and businesses, under the DMHTTA precautions;
For emergency in case of having respiratory or other related symptoms, please alert the staff at your accommodation or contact the nearest hospital;
The operator/owner of the accommodation establishment is required to report the name list and status of all foreign guests to the provincial authority on a daily basis.
7. Checking for departures?
For travelling from Phuket to other Thai destinations, travellers are required to show a vaccine certificate and a medical certificate that they have tested negative for COVID-19;
For travelling from Phuket to other countries, travellers are advised to follow the guidelines and measures announced by the respective country of destination.
For further up to date information please check on the link: Tourism Authority of Thailand News