Dining on a superyacht charter is an experience like none other. You might think that there is nothing better than securing a reservation at a Michelin star restaurant, but what if you can enjoy this level of fine dining and outstanding service that is specifically tailored to match your demands while on the high seas? A bespoke menu whose design has been inspired by what you want most and prepared by a chef as highly skilled as you would find at any Michelin star restaurant kitchen? This is exactly what you get when you book super yacht charters in Hong Kong. 
Why fine dining in a superyacht charter stands out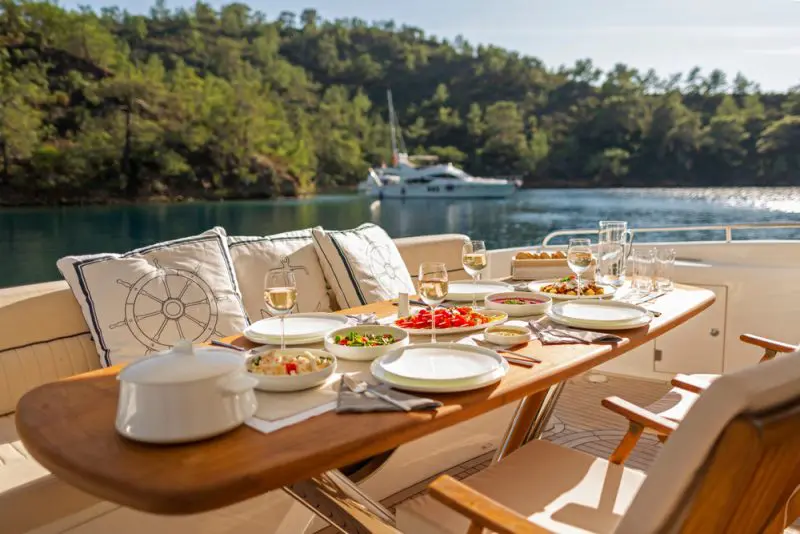 Recruitment of private chefs that will cater to the needs of superyacht charter guests is highly competitive. The charter itself is a high-end service that delivers a luxury experience, hence the selection of private chefs that can match this demand. Only the most talented chefs that understand and can cater to this quality of fine dining are chosen for this role. 
The food and drink choices that are stocked on board are guided by what the guest wants. At the time of booking the superyacht, the guest is provided with a preference sheet where they can indicate what they would like on the menu. This can include their preference for ingredients and cuisine that will allow the chef to better tailor his menu and shop for supplies. It is also important to indicate any dietary requirements that the chef should be informed about, including food allergies. 
From this information, your private chef can then develop a customised menu where every breakfast, lunch, and dinner item, besides snacks and desserts, is specifically designed to satisfy and delight your appetite. 
Most food on a superyacht charter that is used to prepare meals is local, fresh, and organic. This ensures you enjoy as local a culinary experience as is possible, however, given the clientele, it is not uncommon for superyachts for charter in Phuket and other locations to stock up on exotic ingredients from continents away as long as it is what the charterer wants. Whatever preference that you indicate that is not locally available will be sought before departure. 
If there is a special celebration, like a birthday, or theme night planned, the chef will again take this into account to ensure the meal choices suitably match the event.  
Sample menu for superyacht charters
Breakfast
Eggs made to order
Freshly baked bread
Granola or muesli served with yoghurt and tropical fruit

 

Brioche French toast with apple compote
Traditional salted egg lava buns with caviar dumplings

 
Lunch
Grilled Robatayaki fish
Braised abalone in oyster sauce
Tropical reef burger
Marinated pork tenderloin served with tamarind sauce
Steamed shrimp dumplings
Dinner
Wagyu steak
Seafood platter 
Roast goose
Shrimp sashimi
Five-layer roast pork
Daily wild-caught fish served with rice and saffron sauce
Desserts 
Apple Tatin with ice cream
Strawberry & Coconut Cake
Vanilla puff pastries with house-made caramel
Chocolate Fudge Cake
Dark chocolate ganache with fresh raspberry pulp
The chef will arrange for a suitable selection of wines and fine beverages to be served alongside the dishes compiled for your dining pleasure. Note that some local dishes may include seasonal ingredients, so may not be easily available all year round. 
When it comes to food on a superyacht charter, the guest is very much in control. Whatever cuisine or specific dish you desire, there is sure to be a talented chef that can bring it to life. All you need to do is communicate your wishes early on so they can ensure they have all the necessary ingredients on board to satisfy your palate.