Do you want to throw the most unforgettable and one-of-a-kind party possible? If so, you should consider throwing a yacht party. This is probably the most incredible way to make memories with the people you cherish. This will help bring the closest people in your life together in one exceptional and relaxing setting.
However, before you invite everyone on board, consider some of these factors to ensure the party is a success.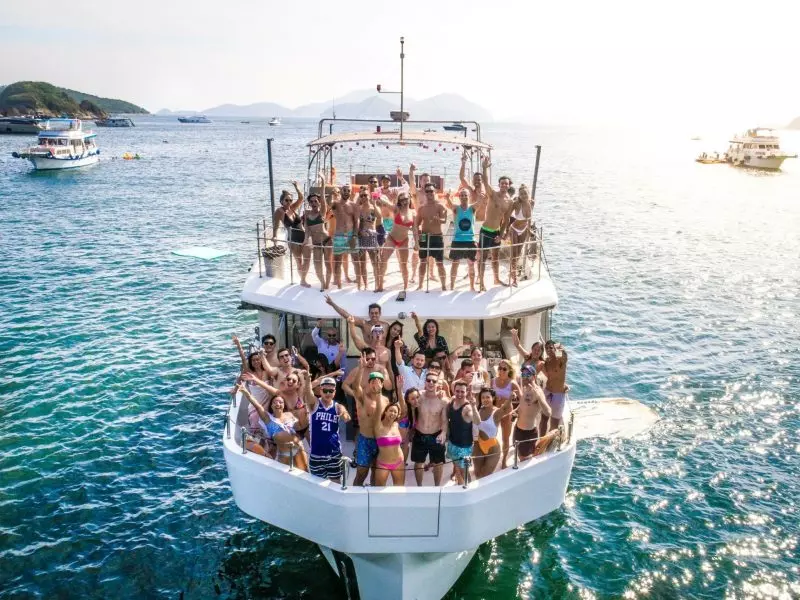 Choose the right food and beverages
Dining on a boat may be quite different from dining on land. However, with careful planning, we can come up with our party recipes to make the experience truly unique. The food presented at a gathering is frequently the focal point. It will be something guests will talk about even after the event is over.
Furthermore, the focus of the eating experience is on the taste and presentation of the dishes, so you may want to make it extra special. A gathering isn't complete unless there are cocktails present, but don't make it the key part of the celebration.
Some of the best food and beverages you can serve at your yacht party include frozen grapes, trail mix, sandwiches, muffins, iced tea, and mojito. Other times this can be a local catering with beautiful 'instagramable' dishes and platters.
Put a lot of thought into the music and vibes
The music played at a party can make or break the event's success. You can choose the genre of music that will be played during the party based on the number of guests and the theme you have chosen.
Include well-known songs that are appropriate for people of all ages.
But first, make sure the music plays through the speakers to ensure that it is working properly. Glitches can occur, so you should consider hiring a DJ to bring the music to life and make it more interactive.
Determine the number of hours or days the party lasts
Depending on your preference, you can start the party early in the morning and end just as the sun goes down. Whatever your plans are, make sure that everything you need will be available onboard the vessel. Keep in mind that it's not easy to turn around once you've started sailing.
Finalise the date
It's overwhelming to decide out of 365 possible options, but you have to be open-minded. Don't rush into anything and plan ahead of time. Consider the weather, public events, and time. Pick a date when you expect most of the people on your guest list to be available. As a result, the probability that you'll have a higher guests turnover is better. You will enjoy the party with all the guests you want to share and experience it with.
Find a good theme
There is always a reason for throwing a party. It may be a special celebration with your loved ones, such as birthdays, weddings, anniversaries, graduations, or any other occasion. Other reasons include being hired for a new job or being promoted, as well as celebrating calendar events such as Christmas or Halloween.
Furthermore, you can make it more unique by picking a theme. Consider a retro-style '60s party, a tropical party, a Disney-themed party, a floral party, or anything else that fits the occasion. While everyone is having a good time, you don't want any of your guests to be on the left side of the corner. To avoid confusion about why they are there, the theme should match the type of guests you have invited.
Make a guest list
How many close friends would you like to enjoy a day on the water? Would you want it to be an intimate one, or you won't share your joy with many? These questions will help you list down people to invite. Consider the diversity of your guests when making your selections. It's best to invite people you're familiar with and who share your passions so that you can ensure that everyone has fun and contributes to the success of the event. Select only those guests who will get the most out of your get-together. Choose guests who can appreciate your gathering and those who can participate and enjoy the party.
Find the right yacht
The size of the yacht should be spacious enough to accommodate your guests for the whole duration of the party. Besides that, you should also consider the budget for the occasion in choosing a boat. Giving the best experience to your invitees is one goal why you called for a gathering. But be realistic. If your budget is for a small group, stick to it. Make a shortlist that fits your budget.
Special considerations should also be given for the yacht you want to charter. You should see if the amenities that come with the yacht suits you and the occasion. Some features include swimming pools, a sundeck hot tub, a live aquarium, a private cinema, and a cocktail bar with a DJ, perhaps. These amenities make the yacht party experience memorable.
If you are looking to find the perfect yacht for your getaway, you should consider getting into contact with a yacht charter company in Phuket. Boat rental in Phuket is simple when you work with Simpson Yacht Charter's skilled crew at the Ao Po Grand Marina, which is home to the majority of our yacht charter fleet. We can arrange for the rental of day boats, yachts, luxury catamarans, and superyachts that are ideal for your private charter experience.