Luxury Yacht Charter & Boat Rental in Singapore

Singapore's southern islands are a breath-taking sight to behold from a distance and far more exhilarating and entertaining when enjoyed with boat rental in the privacy and comfort of a luxury yacht. If you are looking to escape the hustle and bustle of the city and take a break on the shimmering blue waters of the Singapore Straits, then now is the time to book a yacht charter experience in Singapore that will get you exploring the famous islands of Kusu, St. John's Island, Pulau Hantu, Pulau Ubin, Lazarus, and Sisters' Islands at your convenience.
Through our yacht rental service in Singapore, we can make arrangements for whatever kind of boat trips you want, be it a 1-day excursion on a rental yacht or organise a tailor-made itinerary that will allow you to take your time exploring all the local islands and their waters at your own pace. You can opt for a bareboat charter or crewed yacht that will serve your needs throughout the day, weekend, or week-long trip. We offer a selection of vessels to choose from that will deliver a sea-faring experience you will love.
HIGHLIGHTS OF A CHARTER IN SINGAPORE
If you would like to spend a day or two on the water, unwinding while exploring some of the beautiful locations within easy reach, a crewed yacht charter will enable you to do this without having to worry about sailing or navigation. This is the perfect choice for groups with little to no sailing experience, whose main aim is simply to enjoy the peace and tranquillity that a yachting trip provides. All of our crew members are experienced and fully qualified sailors, who are passionate about their work and committed to ensuring that every boat rental customer enjoys their time with us to the full. If you choose to have a full crew on your yacht charter, your meals will be prepared by a talented chef and all of your needs catered to by a stewardess.
For a deeply cultural experience, rent a boat to Kusu or Tortoise Island where you will find sacred temples and keramats where people go to pray for good health and fortune. The nearby tortoise sanctuary is a great place to view these adorable creatures in their baby form with even more opportunities to catch glimpses of turtles at the island's swimming lagoons. 

Charter yacht to St. John's Island from where you can bike your way across the bridge to Lazarus Island. Here you will find one of southeast Asia's most idyllic beaches. Horseshoe-shaped and with powdery white sands, it forms a perfect harbour in which to dive in and explore the clear blue waters teeming with life. This beautiful crescent-shaped paradise is also the perfect setting for some lovely sunbathing, swimming, kayaking, and fishing, which you can all do from aboard your very own boat rental. 

The Sisters Islands are an untouched paradise with the reefs home to immense schools of fish that make activities like snorkelling, diving, and fishing popular here. Be sure to drop by the marine park to see the wonderful conservation work being done. 

At Pulau Hantu, you will find even more sheltered beaches and swimming lagoons with fantastic clear blue inviting waters that are just perfect for swimming, snorkelling, and diving. Made up of two islets, it is believed to be home to the ghosts of Malay warriors that died on the islands in ancient times. 
DAY CHARTER, RENTING A BOAT IN SINGAPORE
Just a stone's throw away from the heart of the city, you will quickly find yourself immersed in all types of water activities from your private yacht charter, including sailing, snorkelling, kayaking and fishing. The islands are surrounded by clear blue waters teeming with an array of marine life that you will enjoy being able to closely observe from your sailboat rental, including the dolphin pods off Pulau Salu.
Further inland, there are many historical sightseeing attractions to discover, hiking and biking trails to explore, and soft sandy beaches to relax on. It is an outdoor enthusiast's paradise, whether you want exhilaration or a more laidback experience. All you need to do is set sail and drop anchor where convenient to start your vacation.
A day boat hire will allow you time to enjoy many attractions as the islands are in a tight grouping you can easily travel through and around. Whether you want to take a family outing or rent a yacht for birthday party celebrations, we can find you a vessel that meets your requirements and provide you with helpful advice on the best spots to visit. we do offer the most highly competitive private yacht price for your consideration.

SINGAPORE ITINERARIES AND BOATS
The southern islands are a wonderful destination to visit as they have been well-developed to cater to the needs of explorers. Whether it is a safe bay you want to drop anchor in and dive or a sacred shrine you want to tour on land, there is ease in navigating to and from the various attractions while on a private yacht. You can even take your private yacht rental on a long journey beyond the straits to such destinations as Malaysia and Thailand.
You can choose to simply hire the type of boat you want from us and set sail, or let us customise an itinerary that best suits your plans and interests. We offer a flexible boat charter service in Singapore that leaves you free to choose from whatever yacht hire vessel we have and accommodate any special arrangements you may require. Feel free to get in touch with one of our friendly consultants during business hours or send us a message via our online contact form on the website.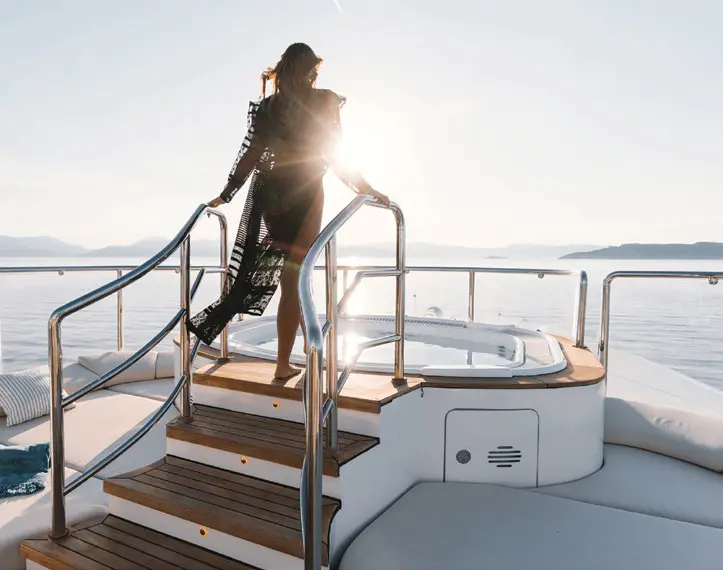 SUPERYACHT CHARTER SINGAPORE
For a truly luxurious vacation experience, opt for a superyacht charter in Singapore that will give you access to the most generously sized and sophisticated sailing vessels. With a superyacht rental, you will be able to explore the islets in the utmost comfort, luxury, and privacy. Though this option comes at a premium yacht rental price, you will never regret the exclusive experience it will afford you and your guests. 
For this type of pleasure yacht rental, our team offers an elite service that includes a tailor-made itinerary, professional crews, bespoke amenities, and flexibility of choice when selecting what megayacht rental suits your needs. For the most deluxe of yacht cruises through the Singapore Straits, get in touch with our team today and we will arrange for your desired yacht booking. 
EVENT CHARTERS IN SINGAPORE
Consider hiring a luxury private yacht for your next corporate event. We can organise a party yacht to be prepared for whatever kind of celebration and to accommodate whatever number of guests you intend, be it a new year celebration, business dinner, or family get together, we can certainly arrange for a luxury yacht party that matches your demands. 
You can even take advantage of our overnight yacht rental service that will allow your guests ample time to enjoy this unique experience you will have put together for their pleasure. A private yacht cruise is an amazing way to host your guests and make it an occasion they will never forget. 
Reach out to our team for more information on luxury yacht rentals in Singapore for events which you can use to host your party on-board or as a sailing vessel to an offshore event destination. Depending on the kind of celebration and number of guests, you can even opt between a bareboat or a crewed private charter boat.