Have a good look around the vessel before you venture out to the shops. See what equipment you already have so you know what you have available when it comes to cooking. There is no use buying tins for example if you do not have a tin opener. Do not take anything for granted – even the kettle or toaster. You may want to consider this ahead of time, especially if you are venturing on a lengthy trip, as it may be quite nice to have some of your favorite cooking utensils with you. This will especially be the case if you are a bit of a dab hand in the kitchen – you may have a special knife or something that you simply cannot do without. You may also want to consider bringing your own spices and herbs with you as they may be tricky to find in foreign locations.
Plan your meals well

Whilst planning make sure you are au fait with the equipment that is available for you to use on board your vessel. A pot with a secure lid is a must have. As well as the cooking equipment, you should plan out detailed menus for your stay aboard the boat. You need to think about breakfasts, lunches, dinners, and snacks and beverages too. Having an idea of menu will make shopping for the ingredients needed for your journey a lot easier, make a list with quantities and all. It will also mean you are likely to have less waste with items not being used, or going out of date, as well as meaning you can ensure you have the storage space for everything you buy before setting sale.
You should consider everyone's needs on board, especially if you have a crew. Make sure you are aware of any allergies etc. before shopping. You must also think about water provision on board. It is really important to keep well hydrated when sailing. Planning meal times is also good practice, so that eating doesn't clash with other activities and so that everyone on board knows when their next meal is coming. You will also want to have a snack drawer or snack bag where people can grab a quick fix should they find their sugar levels getting low.
Plan for that nice glass of wine – or several
Whether you are holidaying with friends, as a romantic getaway for two, or as a family trip, there will always be the need to plan for alcohol. There would be nothing worse than running out of your favorite Cabernet Sauvignon half way through your vacation trip, or being unable to have that nice little nightcap. You will almost always get through more alcohol than you would first think, so plan it out, and then add an extra bottle or two on top of that. They do however say that the effects of alcohol at sea are amplified so make your own call. You will of course be stopping in various locations no doubt, so you can always stock up then, but it is best not to get caught short and plan properly for your alcohol needs in the first instance. Boxes of wine, and cans are easier to store than glass bottles, and also pose less of a safety risk when knocking around the place empty.
Name the chef
Depending on how many of you are on board, you may want to consider giving one or two people the responsibility for all cooking duties and anything kitchen related. This way the plans will be more likely to be followed, and duplicate ingredient buying avoided. In most groups there is one natural person who loves to cook who would like to step forward, they may need assistance every now and again but it can be a weight off everyone's mind if it is clear who is responsible for keeping bellies full. If travelling as a couple, it may be nice to take it in turns, or to do it as an activity together. If you are travelling as a family it may be fun to allow the children to get involved every now and then, to keep them busy, and to provide you with helpers too! Of course on many luxury yacht charters on the larger boats a chef and hostess may be part of the package.
Balance out your meals


On board a boat, it will be impossible for you to eat fresh ingredients with every meal. They are harder to store and can go off quicker. This is another reason why planning is of great importance. You will need a good stock of dry, store cupboard style foods to ensure you will never go hungry should there be a problem with the refrigeration unit at any point during your trip. Of course, if you are in a suitable environment, and have the skills and equipment, you may want to make an activity out of catching yourself a fish supper a couple of nights – but just remember you cannot count on a bite. Always have a backup plan. With yachting holidays it is also important to remain fit and healthy, as they can be quite active, and so make sure you get a good balance of nutrients with every meal – in addition to the delicious treats (you are on vacation after all).
Safety when cooking
You need to know what kind of stove/hob/oven you are working with. Be sure you know how to work your cooking facilities before setting sail, and ask if you are unsure. With stoves you will need to know how to light it safely, and also how to control the supply of fuel that goes into cooking your dish. In addition to this, with open flames aboard, you will want to make sure that you know where the appropriate fire related equipment is. And also where the first aid kit is should you have a culinary related accident. There are many dangers in the kitchen and so you should always make sure any minors are supervised and any dangerous implements such as knives are stowed away safely at all times in places where they cannot fly out from if the boat gets a bit rough. You may also want to consider using sticky mats on which to store your plates. It is also even more important to be a tidy chef on board a
boat, clearing up any spills asap to avoid trip and slip hazards. Hygiene is also paramount, and you must wash your hands at regular intervals. Also make sure things are cooked through, especially if you are cooking meat. You do not want any unnecessary sickness on your trip.
Space is at a premium


It goes without saying really, but we shall say it anyway – space on board is very limited. You need to consider this when doing your shop, and when packing for your trip in general. Food is a necessity and so should take priority in terms of storage space on your yacht. There may be times when repackaging items is a good idea to ensure you are only taking with you the quantity needed.
Think about what to do with the rubbish

With good planning, your food waste should be minimised, but you may also want to consider getting food with the least packaging so you do not become overrun by rubbish. You may want to ask about the garbage disposal practices and allowances. Remember to keep your recyclables separate and to never dispose of any rubbish in the waters around you. We must keep the seas clean for you, and others to enjoy time and time and again. Discarded trash can be very harmful to marine life and wildlife and so you must ensure your rubbish is disposed of in the correct way when travelling by yacht. Anything that you would normally throw in a compost bin however is perfectly safe to throw out to sea.
Examples of good foods to cook on board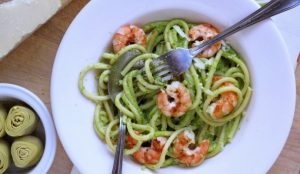 People tend to be hungrier at sea, and so it is good to have meals planned which allow people to go up for seconds. Think about – on board a lovely yacht you have more time on your hands, and you may be exerting yourself a little more than usual with all of the duties that come with renting a boat. Fruit, nuts, and crackers are great little energy boosters to keep handy throughout the day, but at dinner time, you will want something a bit more hearty. You must have knowledge of likes and dislikes of your passengers as well as any allergies as previously discussed. Some people can't abide baked beans – even though they are a handy quick filler.
One pot wonders


Such as a stew, fajitas, soup, stir fry, Risotto.

Pastas


Bolognaise, carbonara, pesto, and various pasta bakes.

Rice dishes


Chilli, curry, paella

Salads


You can make some great salads out of canned mixed beans and packets of quinoa

Fish


Whatever you can catch alongside a salad or some vegetables
Cooking on board can be a really rewarding and enjoyable part of your yachting experience if planned well. You can eat healthily, easily, and tastily all from your very own on board kitchen and delight in the sea views as you enjoy your dishes. So let's get cooking!
Photo Credit:  bluestaryachting.net, sailingeurope.com, dometic.eu, sailingeurope.com, yachtcharterfleet.com, phuketstag.com,    intersailclub.com,watkinssuperyachts.com