The 72nd edition of the famous Cannes Film Festival will take place on the French Riviera on 14-25 May 2019, followed by the 77th edition of the prestigious Formula 1 Monaco Grand Prix held in Monte-Carlo on 23-26 May 2019.
What better excuse to book a charter on some of the world's most sought after superyachts and enjoy these two globally recognised elite events from the comfort of your own superyacht suite and deck?
We have selected a few magnificent superyachts based in the South of France that you can book for your tailor-made itineraries around the French/ Italian Riviera (minimum booking period 4 days and more), including for static events at the dock.
62.50m Codecasa, 2013|2019, 6 cabins|12guests, 17 crew
Charter rates
Special deal for the Monaco Grand Prix (May 22-27), with the berth included in the price:  €250,000 for the 5 days + VAT + APA
THE BERTH FEE IS INCLUDED IN THE PRICE (normal cost of the berth is €71,075)
Standard weekly: EUR 330,000 per week plus VAT & APA
Less than 4 days booking: EUR 55,000 per day plus VAT & APA
More than 5 days booking: EUR 47,145 per day plus VAT & APA
Maximum 70 guests for cocktail parties at the dock
M/Y APOGEE features:
12 guests in 6 staterooms
Incredible interior and exterior spaces
6.7m long sky lounge bar
17 crew for great service on charter
Air-conditioned gymnasium on the sundeck with panoramic views
Large "limo" tender with hard top
Huge array of water-sports toys including 4 waverunners
Full beach furniture set-up for beach banquets and parties
12 person Jacuzzi
Zero-speed stabilizers
Elevator connecting all decks
Internet with WiFi
Charter rates
Standard weekly: EUR 350,000 per week plus VAT & APA
Less than 4 days booking: EUR 55,335 per day plus VAT & APA
More than 5 days booking: EUR 50,000 per day plus VAT & APA
Maximum 70 guests for cocktail parties at the dock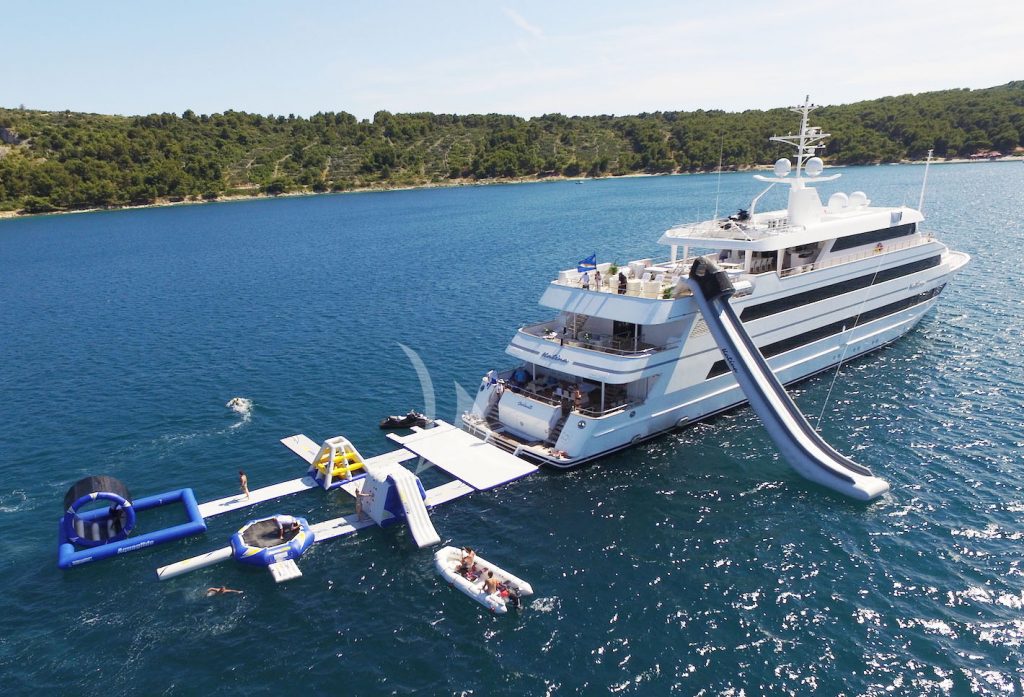 Charter rates
Standard weekly: EUR 299,000 per week plus VAT & APA
Less than 4 days booking: EUR 49,835 per day plus VAT & APA
More than 5 days booking: EUR 42,715 per day plus VAT & APA
Maximum 150 guests for cocktail parties at the dock
Charter rates
Standard weekly: EUR 240,000 per week plus VAT & APA
Less than 4 days booking: EUR 40,000 per day plus VAT & APA
More than 5 days booking: EUR 34,286 per day plus VAT & APA
Maximum 80 guests for cocktail parties at the dock
Charter rates
Standard weekly: EUR 112,000 per week plus VAT & APA
Less than 4 days booking: EUR 18,667 per day plus VAT & APA
More than 5 days booking: EUR 16,000 per day plus VAT & APA
Maximum 50 guests for cocktail parties at the dock